Click on Map Icons to View More Info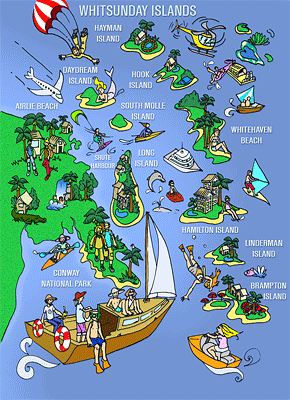 Top 10 Articles
Abell Point Marina
Airlie Beach
Airlie Race Week - August
Battle of Paddles - June
Bowen
Brampton Island
By Air
By Rail
By Road
By Water
Whitsundays Region Guide
Click Images to view gallery for this subject
Fishing
Updated: 04-Jul-2016
Fishing is an extremely popular recreation in the Whitsundays, with reef, game and mangrove angling all widely available...

The Islands can only be described as paradise. The scenery is spectacular, the calm clear blue warm water abounds with fish and safe anchorages are numerous for any condition.
Fishing options abound and include everything from game fishing for marlin maceral and tuna, reef fishing coastal formation fishing, flats and estuary.

The best game fishing occurs along the outer edge of the outer islands. Bluefin and maceral tuna abound nearly all year round and are easily located by looking for the sea birds working the surface over the tuna. Giant trevally is common in the warmer months.

Reef fishing will provide top quality tucker in the form of Sweetlip Spangled Emperor, Coral trout and cod just to name a few. The fringing reef in close to the islands provides great fishing. You can clearly see where the reef drops onto the sand and this is the ideal spot to fish.
Guided tours depart daily around the islands or you can either charter your own vessel, hire or drive a charter boat.
Download the Queensland Recreational Boating and Fishing Guide.
Anglers do not require a licence to fish recreationally in Queensland, except if fishing in some stocked impoundments. The content below provides detailed information on anglers' responsibilities when fishing in fresh waters and tidal waters. Fishing rules apply to all ages but children should be of an age where they can be responsible for the use of their own fishing gear.
When fishing
Take only what you need
Do not use pest or non-native fish for bait. Never release introduced species into the water
Do not fish where fish feeding takes place, for example as part of a tourist program
If you're unsure of the fish identity or size, release the fish immediately
Return all undersized and unwanted fish quickly to minimise injury
If you're keeping the fish, remove it from the hook or net immediately and kill it humanely
Do not litter - clean up all fishing gear (such as discarded tackle and line, and bait bags) and take it back to shore to dispose of it properly.
When spearfishing
Spear only what you need
Do not pursue a fish if you are unsure of its identity or size
Do not take big fish merely as trophies because these are important breeding stock
Always track down injured fish, do not let them swim off injured.
When returning unwanted fish
Minimise the length of time a fish is out of the water - keep fish in the water as much as possible and have your equipment close at hand. Very large fish should not be removed from the water
Do not leave fish on a hot, dry surface to thrash around
Place fish on a wet towel and cover them, especially the gills and eyes. The fish should not dry out and direct sunlight can damage their eyes
Handle fish gently - fully support its body, do not hold upright by the jaw, squeeze or kneel on the fish
Use wet hands or wet cloth when handling fish to minimise damage to their protective mucous coating
Remove the hook carefully and quickly using a pair of long-nose pliers or a de-hooker to minimise tissue tearing. If the hook is difficult to remove, cut the line instead
Help fish recover before their release - gently release the fish headfirst into the water
Use barbless hooks or those that are unlikely to become hooked in the gills or gut.
Edit This Page
Edit Page Content
Post Comment