Home >
Conway National Park - Walks
Click on Map Icons to View More Info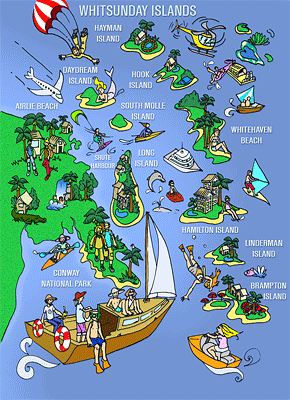 Top 10 Articles
Abell Point Marina
Airlie Beach
Airlie Race Week - August
Battle of Paddles - June
Bowen
Brampton Island
By Air
By Rail
By Road
By Water
Whitsundays Region Guide
Click Images to view gallery for this subject
Conway National Park - Walks
Updated: 13-Feb-2012
Conway National Park and the Conway State Forest boasts a number of walking tracks, which take you through a variety of vegetation types including lowland rainforest, mangroves and open forest. Take the Mount Rooper track for spectacular Whitsunday Passage and island views. This 22,500 hectare park's vegetation is very similar to that on the Whitsunday Islands because thousands of years ago the sea level rose, drowning coastal valleys and creating the islands. For throusands of years, the Ngaro and Gia people roamed these forests, harvesting the riches of the forests and the adjoining sea country.
To get to Conway National Park from Airlie Beach, follow Shute Harbour Road south-east for 6.5 km to the Conway National Park Picnic ground.
WALKING TRACKS:

There are a number of walking tracks wind through Conway National Park. If you plan to go bushwalking, be prepared and tell a friend or family member of your plans.
Circuit Track—1 km (30 minutes) Grade: Easy
From the picnic ground, the track passes through lowland rainforest festooned with small vines, and crosses a small tidal creek beside an area of cottonwoods and mangroves. These mangroves are immersed only at high tide and do not have the well-developed aerial roots associated with mangroves on the seaward side. On this track you might see brush-turkeys and orange-footed scrubfowl. A self-guiding brochure highlighting features can be obtained from leaflet boxes at either end of the track. Please return the brochure when you finish your walk.
Hayward Gully—3.2 km return (1.5 hours) Grade: Easy
This track branches off the Circuit Track and offers you a longer walk from the picnic ground. From the Circuit Track, you will continue through lowland forest and cross small rocky creeks before reaching Hayward Gully. A small patch of mangroves and associated wildlife adds diversity to the walk. Vegetation along this track includes the giant stinging tree. Take care not to touch this tree as brushing against its hairy, heart-shaped leaves can result in an intensely painful sting.
Mount Rooper—2.4 km to lookout (1 hour) or 5.4 km for circuit (2.5 hours) Grade: Moderate
The track passes through low woodland growing in shallow, stony, clay soils where lophostemons, grasstrees and wattles are prominent. Although grasstrees here are small, they can grow to 4 m tall elsewhere. Their pale yellow flowers on spear-like stalks provide food for many insects.
Mount Rooper Lookout has a panoramic vista of the Whitsunday Passage and islands. A 2 km track connects to the Swamp Bay track where open forest gives way to lowland rainforest. A rocky outcrop halfway down this track forms a natural lookout over Swamp Bay. Signs here describe Aboriginal use of selected plants in this area.
Swamp Bay track—2.1 km one-way (1 hour) Grade: Moderate
This track follows the creek at the foot of Mount Rooper. The creek, like most here, flows only in the wet season. The beach at Swamp Bay is covered in broken coral washed up by wave action. The view is across Molle Passage to the Molle Islands group.
Coral Beach track—2 km return (1.5 hours) Grade: Moderate
This popular track starts and finishes at the Coral Beach car park, about 4 km east from Conway National Park picnic area along Shute Harbour Road and Whitsunday Drive.
You will glimpse Shute Harbour and Whitsunday Passage through open forest and vine thicket. Brochures describing the coastal environment's traditional use are available from leaflet boxes at the track's start.
From Coral Beach, you will enjoy the cool breeze and views across Whitsunday Passage. If seeking better views, you should allow extra time to walk 700 m up to The Beak lookout, which is accessible from the beach's south-eastern end.
Whitsunday Great Walk—30 km one-way (Allow 3 days) Grade: Moderate to difficult
Prepare for a challenge. This walk starts at the Brandy Creek car park and finishes at Airlie Beach. It is a one-way track to give you the best walking experience and to make sure you can return safely if creeks flood. Allow three days and two nights to complete it. The track is for well-prepared walkers with high fitness levels. It has some long, steep sections and can be very slippery when wet.
See Whitsunday Great Walk for more detailed information on this track.
Edit This Page
Edit Page Content
Post Comment